Getting started with SkyPort (PSDK)
Revised June 2020

Introduction
The RedEdge-MX and Altum sensors from MicaSense can be purchased with the DJI SkyPort mount, which is the easiest way to use our sensors with compatible drones leveraging DJI's Payload Software Development Kit (PSDK).
This special connector allows one to quickly mount and dismount the camera in just a few seconds, as well as seamlessly plan your flight parameters and capture settings from one place.
As opposed to other mounts, SkyPort also offers the convenience of communicating directly with the SkyPort-enabled drone, saving you time and effort in the field.
---
Mounting Considerations
Once you have followed and completed your applicable integration guide (this depends on the type of drone you have), then you will be ready to test your integration.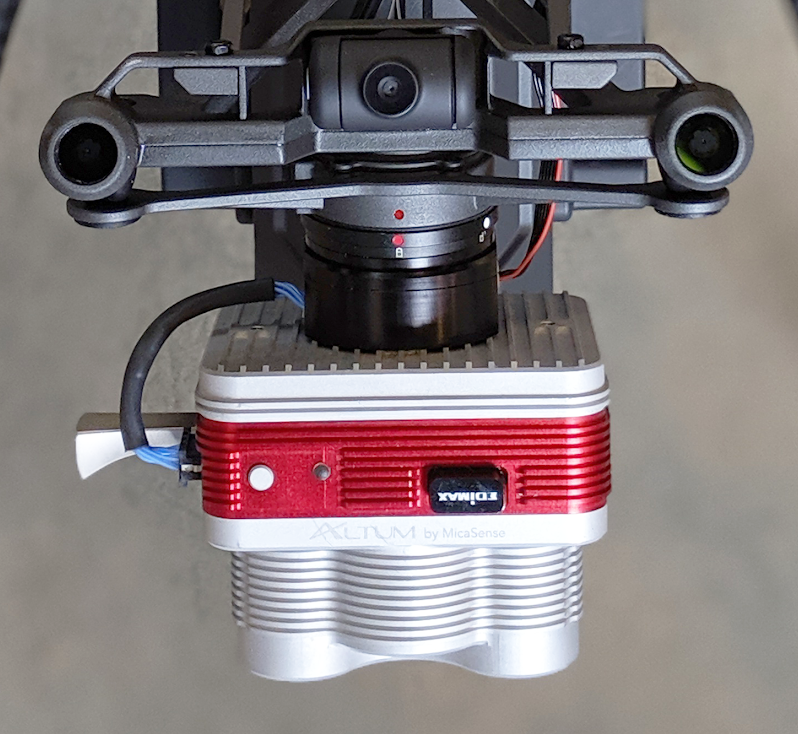 Fig.1: Altum SkyPort mounted to Matrice 200
There are a few considerations when using SkyPort.
If using a Matrice 210 or 300 with a dual downward gimbal connector, you must use Gimbal 1. This is a DJI recommendation. If you cannot mount it on Gimbal 1, you may experience issues with the drone having a direct line of communication to the camera (e.g. camera not being triggered during flight).
If using a Matrice 210 RTK or 300 RTK, please note that some additional considerations must be taken to enable RTK correction. Please see this article: How to set up RTK with M300 with MicaSense cameras

At this time, only the Matrice 200 and 300 series support PSDK. Because of this, if using your camera with any other models (such as the Inspire 2, or Matrice 600), you will need to change your auto-capture mode from "disabled" to either Overlap or Timer mode, so that the camera can trigger itself instead of relying on the drone.
---
Camera Setup
First, you'll want to follow your integration guide to mount your DLS2 to your drone. For instructions on mounting to a M200, please see Installing DLS2 Mast / Mounting Bracket for Matrice 200 Series
There will be a few key differences in the settings of your SkyPort camera over that of a "standalone" unit.
In the Basic Configuration page, the default Auto-Capture Mode for your camera will be "Disabled", as seen below: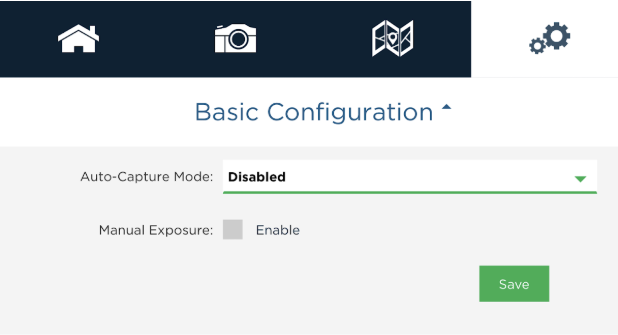 When "Disabled", the camera will NOT automatically trigger captures by itself. Rather, your SkyPort-enabled Drone will be responsible for triggering the camera directly. This makes things convenient because normally one must configure the camera's auto-capture settings in addition to configuring the drone's mission parameters. With SkyPort, you no longer need to configure the camera settings directly via the web interface as the drone's mission planning app will take care of the triggering.
Pre-flight checklist
Before you head out to the field, consider that you have everything you need for success. Some common items we have on our checklist:
Drone and fully charged batteries

Additional props

Remote Controller (charged) with USB cable to connect to smart device

Camera

Calibrated Reflectance Panel (CRP)

Storage device (SD card or USB drive), backup storage device

iPad or other smart device with my preferred Mission Planner installed
Planning your mission
This section deals with using Mission Planners to set up your flight. Please note that there are many examples out there, and we cannot cover every scenario. If you are unsure which to choose, please see: How to choose a Mission Planner.
Generally, there are two places where you would want to check mission parameters. The mission planner app, and the camera's web interface. This is because in a standard configuration, the camera is using one of its automatic triggering modes. With SkyPort cameras, the drone will be able to trigger the camera directly.
If you are using a mission planner other than our own Atlas Flight, you'll need to use one that can enter custom camera parameters. Below are links on how to set this up with the two common Mission Planners from DJI:
Once this is done, you're ready to fly! We recommend reading our Best Practices before you complete your first real flight.
Processing
As with any MicaSense sensor, you will need to process the raw images in order to derive meaningful analysis. SkyPort cameras are no different in this regard. If you need to get started with processing, we recommend reading our Image Processing Workflow.
Other useful links
Copyright © MicaSense, Inc.