Goals
Our cameras were designed for precision agriculture. The idea is to collect overlapping images and merge them together to create a reflectance map, from which all sorts of crop-health analysis can be done.
There are many examples of this our blog, Focal Point. Users have found that this system can help with a wide variety of issues including pest infestation detection, crop health monitoring, invasive species monitoring, early detection of disease, fertilizer application decision support, crop yield variability, and optimal crop harvesting / maturity.
There are four basic steps involved in the process:
Integration
Choosing an aircraft
We recommend using an aircraft that can support the weight of the camera and any additional payload that it needs to carry in support of your operations. It should have enough power to fly an entire mission with the full payload, but multiple flight missions (where batteries are exchanged) are also common. Both fixed-wing and multirotor options work well for this type of data collection. Another factor to consider is how easy it is to integrate the camera onto the aircraft:
Integrating the camera
Use a premade integration kit
The simplest way to integrate a camera is to use an integration kit. We offer integration kits for a few popular drones, like the DJI Matrice 100. Our partners also offer integration kits as well as custom-built solutions.
Do it yourself
If you plan to do the integration yourself, please use our integration guide. The most important things to consider are:
Data Collection

Planning the mission
There are many desktop and mobile applications available for planning your mission. The plan should be set up to fly back and forth over the area of interest while taking multiple overlapping images. To set this up properly, the software will need to know some important details about the camera (like the field of view) in order to generate an appropriate flight plan. Please see this article for important parameters to input into your flight-planning software.
MicaSense offers a free iOS application called Atlas Flight which automatically works with DJI drones and the RedEdge. If using a third-party flight planner, ensure that it supports the camera parameters or you will not collect data with the expected overlap (which is one of the keys to a successful mission).
It is not necessary or common for a third-party flight planner to trigger the camera. That is ok! The camera will actually trigger itself if you set it into overlap/GPS mode. Please see RedEdge: Automatic Triggering Options for more details.
Best practices for data collection
How you capture data is critical to produce high quality output. Our best practices guide takes you through everything you need to know.
Best practices: Collecting Data with MicaSense RedEdge and Parrot Sequoia
Processing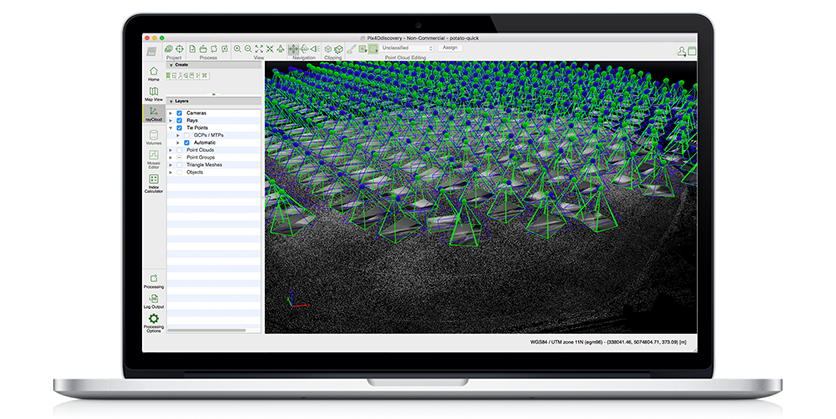 The goal of processing is to stitch the overlapping images together to form what is known as a reflectance map, which is a mosaic of the area of interest where each of pixels in the image represents the actual reflectance of the imaged object. The overall process is generally called photogrammetry.
Software options
Data captured with RedEdge can be processed with a variety of photogrammetry applications, including solutions by AgiSoft, Icaros, and Pix4D. When processing with Pix4D, there is a "Send to Atlas" button you can use to send the processed data to MicaSense Atlas for analysis. For more details on how to process RedEdge data in Pix4D, please see this article or view the tutorial video. There is also Pix4Dfields, the latest software from Pix4D that can process RedEdge data within a few minutes.
Do it yourself
For users and partners that would like to implement their own raw image processing workflow software, we have published a series of tutorials and software on the use of RedEdge imagery and metadata for achieving the best results. You can find the tutorials and code in github here: MicaSense Image Processing.
Analytics
A reflectance map can be analyzed using a number of different indices, composites, and other insightful formulas.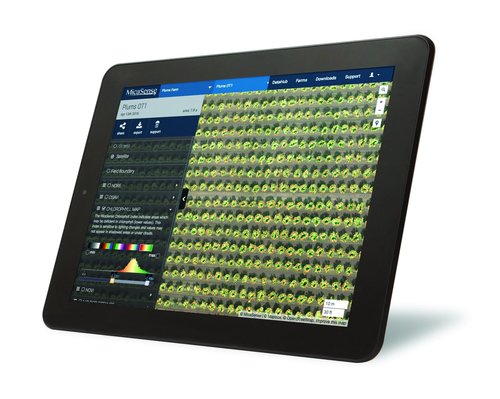 Cloud solutions
Atlas is a simple to use cloud based platform built to provide intelligent solutions for precision agriculture. It automatically generates a variety of helpful indices and composites designed to highlight key areas of interest. After processing raw data with Pix4Dmapper, turn imagery into actionable information using powerful analytics and visualization tools. Backed by the cloud, this dynamic platform allows for easy sharing and mobile access.
Desktop software
Processed RedEdge data can also be analyzed in a variety of applications, including open-source applications like QGIS, which can generate NDVI and other agricultural indices and color composites. With software like this, you will have to know which formulas to use and how to set up the view in order to find the best way to analyze the data. We've written a brief introduction to how to use the "raster calculator" in QGIS to create useful analytics.
Understanding the data
Each crop and situation is different. For best results, we recommend sharing the data and consulting with a local agronomist who is familiar with the crops, weather patterns, and growing practices of the region.
For some basic analysis tips and general ideas on how others have used this type of data, please see our blog: Focal Point. For example, you can see how a remote sensing expert used multiple layers to discover and analyze issues on an 80-acre potato pivot.