What are the diag.dat and paramlog.dat files in my folders?
You may have noticed there are always two files included in your data sets. This is an example: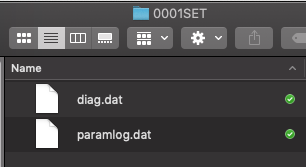 Every time you boot the camera, a diag.dat and paramlog.dat file are created, and they continuously are updating with information about the camera's usage. These are proprietary and encrypted data files that will allow only MicaSense to decrypt and analyze for diagnosis of a problem you may be experiencing.
We recommend you always keep these files in your data sets, since they are very small and may be extremely helpful to troubleshoot any potential issues in the future.
How do I send these log files to MicaSense for analysis?
If you contacted Support about an issue you are experiencing with the camera, it is likely that we will request that you send the diag.dat and paramlog.dat files.
The easiest method is to simply attach them to your email response. However, Zendesk has a 20MB attachment limit. These .dat files normally are under 20MB, but if you had a particularly long session it can easily exceed that limit. You can also try compressing or zipping the files before sending, as this usually brings down the file sizes considerably.
Another method is to simply host these files and share a download link with MicaSense. For example, you can use Dropbox to generate and copy a "Dropbox Link" as shown below: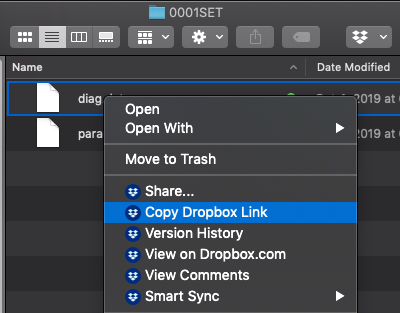 If you're using Google Drive, you'll need to use Google Drive's web interface to generate a Share Link: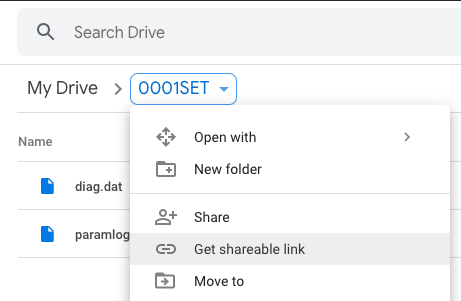 Once a shareable link from Dropbox, Google Drive, or other file hosting service is copied, you can simply send it to us via email and we will be able to download these files without worrying about Zendesk's 20MB attachment limit.