Import Shapefiles or KML
Now you can import a Shapefile or KML file to define a field. At the moment, only the first polygon in the file will be used, and only one field can be imported per file. Additionally, the files should be in the WGS-84 lat/lon (EPSG:4326) projection.
From the "Farms" tab in Atlas, click on the farm where you'd like to place your field.
Press the +New button to add a new field
Press the Upload Shapefile button, and choose the shapefile you'd like to import.
Enter a field name and description, then press the "Save" button. 
Rotate and Tilt the Map
Now you can use the right-click button (ctrl+click on Mac) on your mouse, or two fingers on touch devices to tilt the map view, or rotate it 360º. 
See your images on a map before you upload
Now you can see your image set on a map in the uploader! 
You can use the altitude/time graph to select and exclude/include images based on their altitude.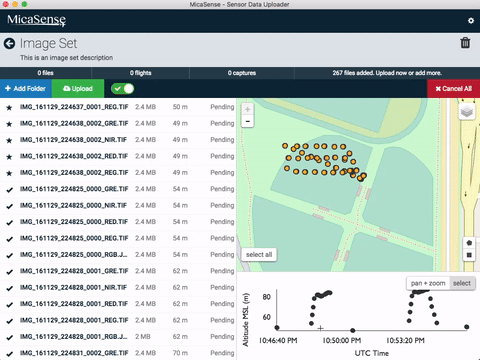 You can also select images on the map using the rectangle or polygon selection tool.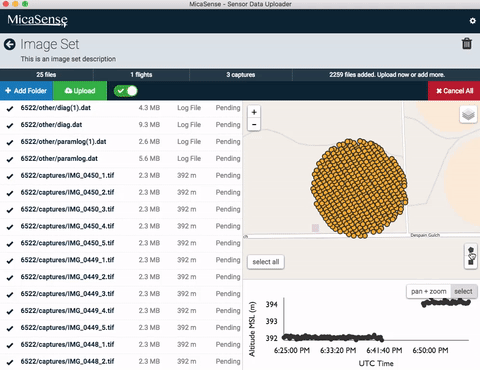 Field Notes
Now you can annotate your fields with points, lines, and shapes. You can write a custom note for each feature you add and can even attach images.
Click on an image to enlarge:
Custom Color Scales
This feature allows users to customize the color scale that is used to display data, based on the corresponding histogram. This helps focus in on certain "peaks" in the data that may correspond to healthy or stressed plants, highlighting variability that could not be seen with the previous color scales. Make new maps from your data
Related links:
An overview of histograms and how they are used in ATLAS
See custom color scales in action
Additional Data Layers: Chlorophyll Map and OSAVI
The MicaSense Chlorophyll Index and the OSAVI index are new layers that will be included in ATLAS. The Chlorophyll Index indicates areas which may be deficient in chlorophyll and is intended to help analyze data based on canopy cover and canopy nutrient content, while the OSAVI index maps variability in canopy density. Use these layers to gain new insights. 
Related links: 
An overview of the available layers and indices in ATLAS
See OSAVI and our chlorophyll map in action
---
This page will highlight new ATLAS features, and provide links to relevant KB articles. Keep it bookmarked!