The following tables shows a quick reference to highlight the differences between MicaSense sensors.
Currently, we offer 3 different options:
RedEdge-MX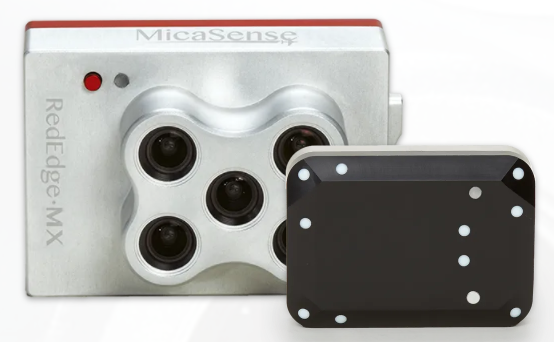 Altum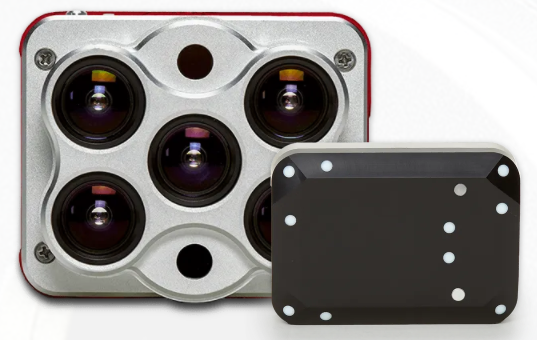 Dual Camera System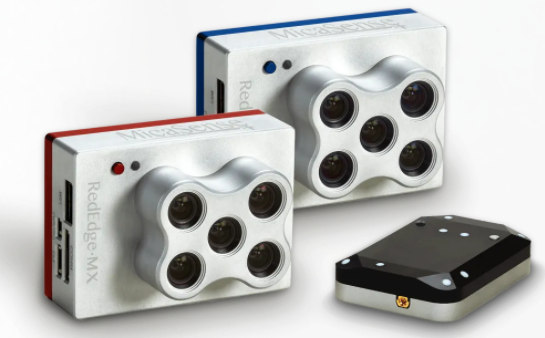 Below is a table comparing the technical specifications of these 3 sensors. Further down below we will compare major differences between these models and previous generations.
RedEdge-MX
Altum
Dual Camera System
Weight (including DLS2 and cables)
231.9g (8.18 oz)
406.5g (14.34 oz.)

508.8g (18 oz.)

(Two sensors + mount plate + DSL2 + cables)

Bands**

5 bands

Green, Blue, Red, Red edge, Near infrared (NIR)

6 bands

Green, Blue, Red, Red edge, NIR, Thermal (LWIR) 8-14um

10 bands

Coastal blue 444(28)*, blue 475(32), green 531(14)*, green 560(27), red 650(16)*, red 668(14), red edge 705(10)*, red edge 717(12), red edge 740(18)*, NIR 842(57)

Power input
5.0 - 15.8 V
5.2 - 25.2 V
5.0 - 15.8 V (provided through mount)
Thermal?
No
Yes
No
Sensor resolution
1280 x 960 px
2064 x 1544 px,
160 x 120 px for LWIR band
1280 x 960 px
Ground Sample Distance at 120m (~400ft)
8 cm/px

5.2 cm/px,

81 cm/px for LWIR band

8 cm/px
Storage
SD Card
USB 3.0, optional SD card accessory
SD Card
DJI Skyport enabled?
Yes
Yes
No
Capture rate (all bands)
1.0 second between captures
1.5 seconds between captures
1.0 second between captures
Field of View
47.2° HFOV

47° x 37° (multispectral)

57° x 44° (thermal)

47.2° HFOV
* Denotes RedEdge-MX Blue bands
** For more details about each sensor's center wavelengths and bandwidths, click here
In addition, we also have these discontinued models along with some basic technical specifications: :
RedEdge-M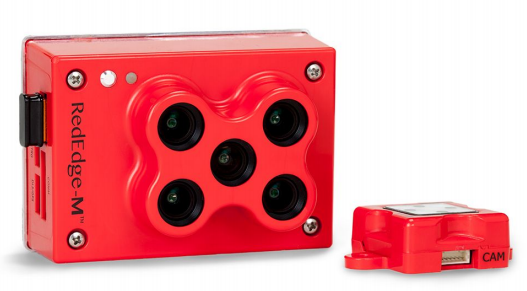 Key differences:
* Plastic housing rather than all-metal like the RedEdge-MX
* Compatible with new DLS2 but originally comes with DLS/GPS combo
RedEdge-3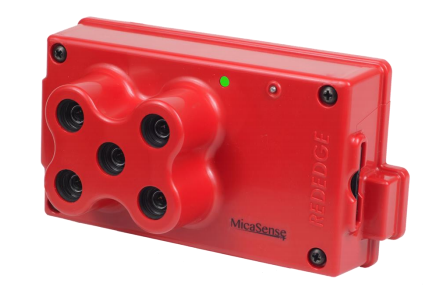 Key differences:
* Voltage range of 5.0 - 5.5v
* Non-removable WiFi adapter
* Larger form factor
* Does not receive firmware updates after v5.1.13 specific to RedEdge-3.
* Compatible with new DLS2 but originally comes with DLS/GPS combo
RedEdge-M
RedEdge-3
Discontinued?
Yes
Yes
Compatible with DLS2?
Yes, with firmware update
Yes, with firmware update
Weight
170 g (including DLS)
168 g (including DLS)
Voltage range
5.0 V - 15.8 V
5.0 V - 5.5 V
Removable WiFi?
Yes
No
Dimensions
9.4 cm x 6.3 cm x 4.6 cm (3.7" x 2.5" x 1.8")

12.1 cm x 6.6 cm x 4.6 cm

(4.8" x 2.6" x 1.8")

Ground Sample Distance
8 cm per pixel at 120m (400ft)

8 cm per pixel at 120m (400ft)
See also: